Joining the Association is easy. It takes just a few minutes and you may pay by PayPal, credit or debit card, or mail a check. The Association is open to anyone:
Soldiers who served in the 29th
Currently serving soldiers
Families of those who served
Anyone interested in our long and proud history, or who wants to keep spirit of the 29th alive
Do not worry if you do not live near one of our Posts – only a fraction of our members can make regular meetings. We have posts all over the United States, but many of our members do not live near one of our posts. In fact, we have a large membership that lives in Europe. Click for list of posts.
All we need is $15 for your first year of membership and a few lines of essential information. Click here to fill out our simple membership form. Once we receive your $15.00 initial membership fee, we will then process your membership application.
CURRENT ASSOCIATION MEMBERS WHOSE ANNUAL DUES ARE $15: PLEASE DO NOT FILL OUT A NEW MEMBERSHIP FORM. JUST CLICK THE PAYPAL LINKS BELOW TO PAY. (IF YOUR POST DUES ARE NOT $15, PLEASE CONTACT YOUR POST COMMANDER FOR INFORMATION.)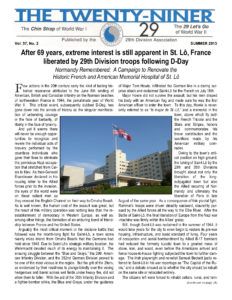 There is no real difference between Full and Associate Membership – both are $15 and for that you receive the monthly Chin Strap newsletter and the Twenty-Niner three times a year (download a copy).
The only difference in our Full Membership is that you had to have served in the 29th Division (or one of its units tracing lineage) to serve as National Commander or one of the National Vice Commander positions.
Pay for membership using PayPal