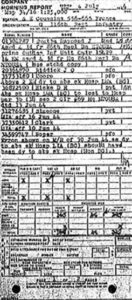 The link below will download onto your computer the Excel 2010 file created from the Morning Reports of the 29th Infantry Division from June 1, 1944 to May 31, 1945.
The Maryland Museum of Military History obtained from the US Army Personnel Records Branch in St. Louis every single 29th Division morning report (essentially a daily record of every company within the division) from the D-Day landing on Omaha Beach to V-E Day.
Please note that these records were originally recorded by company clerks, sometimes under duress, on roughly 4×8 inch multi-page forms.  (See example.)
Some records had been lost. Others were extremely difficult to read due to degradation.
A World War II 29th Division vet, Ralph Windler, asked the museum to print out every morning report so that he could catalogue and index them in an Excel spreadsheet last updated in July 2017.
Ralph then, to the best of his ability, read and transcribed each report line item into this spreadsheet, which now contains over 122,500 entries. At each stage (company clerk, microfiche conversion and transcription to spreadsheet) errors can and certainly did occur.
Hence this record of events of the 29th Division should not be considered the final word. Ralph has donated paper and electronic versions of all the Morning Reports to the 29th Division Museum in Baltimore, Maryland. Note that an actual Morning Report contains other valuable information including the approximate location of the company.