Post 85 Background:
Eder-George Post 85 is based in Northeastern Maryland and is primarily made up of former members of of the 115th Infantry and people residing in Harford and Cecil Counties and the upper Eastern Shore of Maryland.    The Post was established in Elkton, MD on the 9th of January 1948.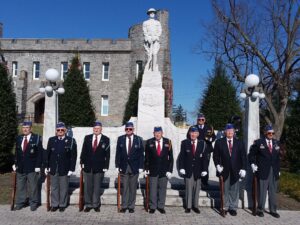 2022 Post 85 Officers:
Post Commander: Dr. Howard Bond
Vice Post Commander:
Post Chaplain:
Post Adjutant: Valerie Simmers
Post Finance Officer: Valerie Simmers (410)459-3760  [email protected]
Post Sergeant-at-Arms – Wilbur R. "Bill" Harter
Post 85 Dues Structure:  Dues are $10 per year.
Meetings:
These are the regular Eder-George Post 85 Business Meeting dates, w/coffee and doughnuts, to be held at the VFW Post 6027 in North East MD at 0945-1100
We have partnership with the 29th Combat Aviation Brigade located in Edgewood, Maryland. We are also working on having a reoccurring meeting in Edgewood.
2022 Meeting Schedule
We meet on the first Wednesday of each month.
If schools are closed in Cecil or Harford counties the meeting will be postponed one week.
Contact Persons: 
Valerie Simmers   (410)459-3760  [email protected]
Mailing Address:
5 Shore Drive
North East, MD 21901